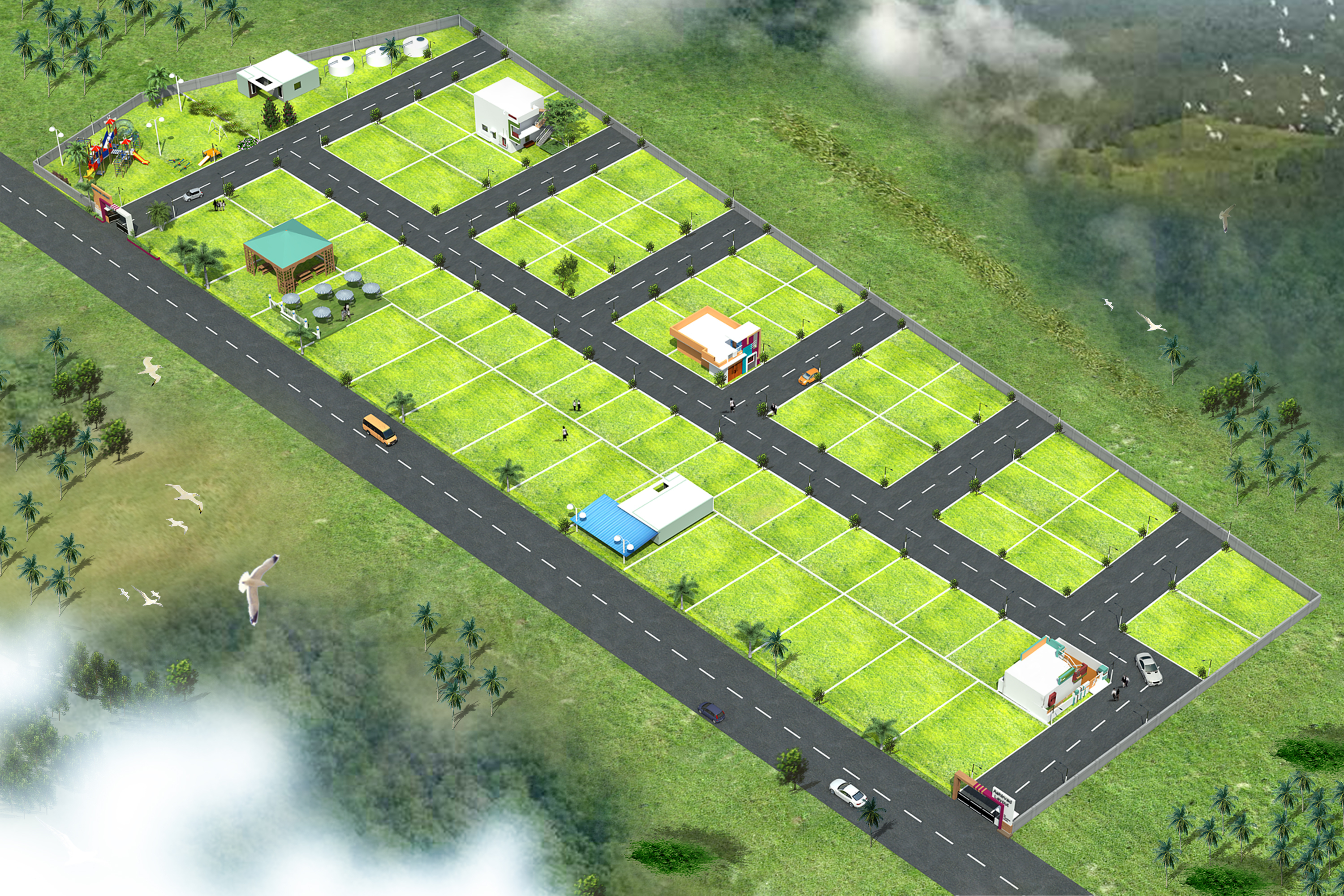 "An Exclusive Residential Gated Community"
Ashirvad Layout is an ideal platform for investment in land, investing in residential properties is no more a traditional pattern of making wealth it is by far today's need that capitalizing funds into asset is very im- portant towards growth perspective of every individual. As time tends and financial stability is a concern, as a support change what best can we think other than investing in land at a developing area?. Which comes into a specified budget and chances of appreciation is higher in terms of developed locality and most importantly your investment remains unharmed with Sensex/market fluctuations.
Vemagal Town and its industrial area are situated on Kolar-Chikkaballapur road is one such location which has speared a mark and contributed abundantly in the growth of Kolar district. Vemagal Town is already a home to many with a value added advantage of paving way for an industrial area which has emerged a drastic growth in the locality by grabbing the attention of investors in the locality.
Ashirvad - Residential layout spread over 3.89Acres of land is an exclusive parcel of land which comes as an opportunity to a few to make their dreams come true. Strategically located off State Highway-96 connecting Kolar-Chikkaballapur is a neat piece of land with exclusive units with different measurements of plots to suit your budget with premium commercial plots along with VASTU oriented residential plots with a peaceful park area surrounded with lush greenery and a scenic view of a pond is the next best place for your valuable investment.
Ashirvad is situated on a 40Feet Main Road leading to different town and villages which makes it an ideal place for investment. Provided with clear title documents and amenities governed by the authorities is the base for your funds to capitalize into asset. Our residential layout is converted to Non Agricultural -Residential Purpose by the Deputy Commissioner of Kolar (DC Converted) and is approved by the Directorate of Town and Country Planning Authority of Kolar (DTCPA) with proper regulated E-Khata's to every individual plot also known as E-Swathu.
Amenities offered are
C.A (Civic Area) planned over 5.64% of the total land area.
Wide Separated Black Top Main Roads of 40 feet and Sub Roads all measuring of 30 Feet of Width.
Park Area spread over 6.43% of the total land area consisting of relaxation space and siting benches.
Strom Water Drains and Plantation by the side of roads developed within the layout.
Water Connections to Every Plot from the Common Borewell Provided within the Park Area.
Arch Gate along with complete boundaries to the layout.
Electricity Lines and street Lights within the layout.
Curb Stones for main road along with culvert pipes with parapets for connecting roads.
UGD(Under Ground Drainage) with manholes and connections to individual plots.
Septic tank within CA area depending upon capacity.
Security room.
Open Garden Area of More than 5% of the total land area.
Accessibilities from Major Cities and Town
Loans are available from leading banks
About Vemagal Industrial Area
Vemagal Industrial Area is developed by KIADB (Karnataka Industrial Area Development Board) is base to some renowned industrial and multinational companies with a floating employment crowd of more than 2000 employees every working day. To name a few reputed and well-known players in the locality.
GSK Pharma (Glaxo Smith Kline), Mitsubhi Elevators India Pvt Ltd, TATA Power SED, Shivam AutoTech.
Along with major player there are further more industries such as Sattva CFS & Logistics Private Limited, Pushpak Fabricators, Mallik Multi Technologies Private Limited, HNI Autotech Pvt. Ltd, Sri Sai Baba Tech, SLV Precision Components, Super Tech Engineers, Vismaya Enterprises, Baba Food Industries, Mirconclean India Pvt Ltd, Maestro Polypack, Plasma gen biosciences Pvt ltd, VGS Delux Inn, Farcom Cable System Pvt Ltd, Sterling Tools Ltd, Nutral Biotech, Woodpecker Enterprises, Sai Siri Apparels, A.N. Enterprises, Niharika Enterprises, Phytotech Extracts Pvt Ltd, M.N.S. Printers Pvt. Ltd, Bhanu Granites, Biorad Medisys Pvt. Ltd, V.N.Enterprises, Vieva Scientific India Pvt. Ltd, R.R.Techno Packs, TKN Packaging, Sri Ganesha Publications, R.G.K.Hotel & Resort, Meca Project Engineers, Earth Dreams Agro Industries, Ranger Apparel Export Pvt Ltd, MSME Development Institute and many more.
Property Map